November 15, 2012 (Online)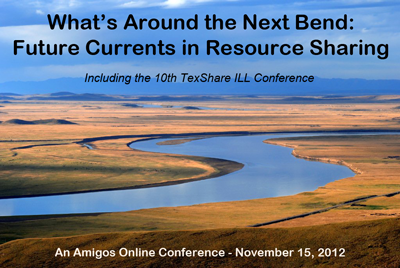 "What's Around the Next Bend: Future Currents in Resource Sharing" is the theme of the 10th TexShare Interlibrary Loan Conference co-sponsored by Amigos Library Services and the Texas State Library. Cyril Oberlander, winner of the 2012 Virginia Boucher-OCLC Distinguished Interlibrary Loan (ILL) Librarian Award, will present the keynote address on "The Future of Interlibrary Loan – Valued Role in Transforming Libraries".
Additional topics will include the latest research by Lars Leon and Nancy Kress on the cost of ILL, a look at OCLC's new WorldShare ILL, as well as basics of Borrowing and Lending sessions and many others. Stay posted for more details. This will be a virtual conference. Attend from wherever you are on November 15th!
Register here: http://www.amigos.org/civicrm/event/register?id=213&reset=1