CFP Open for Moving On: Migrating Library Content and Data
Submitted by

Amigos

on Thu, 2020-11-19 14:49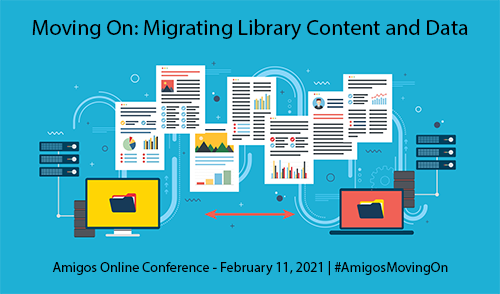 "This link worked yesterday – why doesn't it work now?" "Will all of our local MARC fields migrate when we change catalogs?" When it comes to integrated library systems and electronic resources platforms, the one constant is change. Whether it's migrating all your MARC records to a new catalog system or updating URLs when an e-book vendor changes their platform, most library staff members encounter a migration at least once in their career. These processes can be daunting, but they don't have to be scary.
Join us February 11, 2021, for Moving On: Migrating Library Content and Data. This online conference will explore ways to lessen the pain of migrations between library systems and platforms.
If you would like to present on this topic, please submit your proposal by December 3, 2020. For more information about this conference, contact Emily Nimsakont, nimsakont@amigos.org or 800-843-8482 ext. 2825.