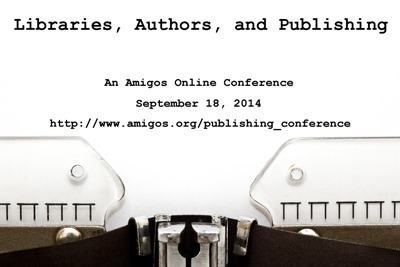 When: Thursday, September 18, 2014
Where: Online
Amigos Members: Admission is free for Amigos members, but all are welcome!
Libraries have long had beneficial and constructive relationships with both authors and publishers. In the past few years, however, libraries have become even more involved.
Public and academic libraries support local authors by hosting writing groups, providing writing support, enabling print-on-demand, helping authors with metadata and with ebook conversion, and becoming publishers themselves. This conference will take a look at all of these options and how they have affected specific libraries.
If you have any questions about the conference topic, please contact Christine Peterson, Continuing Education Librarian at peterson@amigos.org or 800-843-8482 x2891.