Last Chance!!! Time is running out to submit your proposal to present at "Maximizing Your Resources – Saving $$, Saving Time" Amigos Library Services Annual Member Conference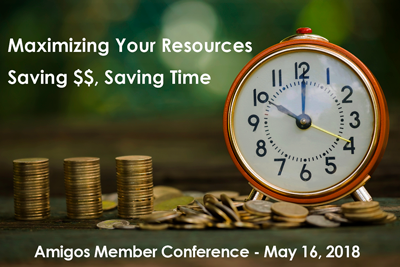 Changes in technology, user expectations, and the economy are redefining the roles and services of libraries and librarians. In response to these transformations, libraries are revising buildings, staffing patterns, collections, services, purchasing practices, technology, and more.
Libraries are working smarter to do more with less and librarians are adapting to new and different roles. Our Wednesday, May 16 member conference will address these issues and offer best practices on how you can maximize the resources available at your library.
Topics for presentations may include:
Successful collaboration efforts
Repurposing library space
Doing more with less
Alternative programming
Succession planning
Marketing & Outreach successes
Use of social media
Redeploying library staff
Can you present on one of these subjects? Do you have another idea? Please submit your proposal! All of the sessions are 45 minutes in length. Don't worry if you've never presented online; we're happy to help and support you.
If you have any questions about the conference topic or presenting at an online conference, contact Tracy Rochow Byerly, Chief Programs Officer at byerly@amigos.org or 800-843-8482, ext. 2891.
Deadline for submissions is Monday, March 5.