Staff Bios

Jodie Borgerding, Continuing Education Services Manager
  Click here to meet Jodie
Jodie Borgerding is the Consulting & Education Services Manager. She oversees the development of training opportunities and provides direct consulting services to Amigos members. Jodie has experience in association management, staff development, and academic libraries.
Prior to joining Amigos, Jodie served as the Instruction Librarian and Subject Liaison for Webster University in St. Louis, MO. She is also a past-president of the Missouri Library Association, and is an active member of the American Library Association and Association of College & Research Libraries. Jodie holds a Bachelor of Arts degree in English from Missouri State University and a Master of Library Science degree from University of Missouri-Columbia.
---

Megan Bryant, Library Services and Technology Trainer/AskAcademic Coordinator
Megan Bryant is the Library Services and Technology Trainer/AskAcademic Coordinator for Amigos Library Services. Her courses focus on topics relevant to public libraries as well as technology trends relevant to all types of libraries. Megan has worked for Amigos since January 2015 in the Membership, Management Services, and Member Discount Services departments. She attended Texas Woman's University and has a Bachelor of Arts degree in English as well as a Master of Library Science.
---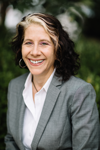 Tracy Byerly, Chief Programs Officer
  Click here to meet Tracy
Tracy Rochow Byerly has been Chief Programs Officer since July of 2012, when the Missouri Library Network Corporation (MLNC) merged into Amigos Library Services. Tracy served as Executive Director of MLNC since December 2003 and played a key role in the merger of the two organizations.
In her current position, Tracy provides leadership and support for new members and directs membership activities. She also guides the organization's communications activities, from managing the production of newsletters to developing informational materials and social media outlets. Prior to assuming her role as Executive Director at MLNC, she taught many workshops in her role as User Services Manager. Her library career began at St. Louis County Library, MO, where she worked in both public and technical services. Known for her knowledge of consortial management, enthusiasm and positive outlook, Tracy is a popular speaker at library meetings.
---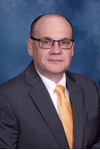 Keith Gaertner, Chief Financial Officer
  Click here to meet Keith
Keith Gaertner currently serves as Chief Financial Officer for Amigos Library Services. He oversees organizational management services projects, internal IT management and assists with the preparation of the Amigos annual budget.
Keith served MLNC for over 25 years prior to its 2012 merger with Amigos, responsible for accounting, personnel services, and the MLNC computer network. He began his MLNC career in 1984 as a part-time accountant, and became full-time business manager in 1987. In 2008, he was promoted to Associate Director, Business Services. Keith implemented several systems at MLNC that streamlined processes and increased organizational efficiency, including a remote deposit capture system, a member relationship management system, and a Citrix server for remote access to the network.
Keith has a Master of Arts degree in Information Technology Management from Webster University, St. Louis, a Bachelor of Science degree in Business Administration and two Chancellor's certificates in data processing from the University of Missouri-St. Louis.
---

Alan Kornblau, President and Chief Executive Officer
  Click here to meet Alan
Alan joined Amigos Library Services as President and Chief Executive Officer in 2017. He earned his Master of Library Science degree from Florida State University, and his Bachelor of Arts degree in Literature from Stockton University. He has worked in public libraries for 28 years.
Prior to joining Amigos, Alan served as Library Director of the Delray Beach Public Library in Florida for over 10 years, and was Treasurer of the Florida Library Association, and ALA Chapter Councilor from Florida. He has been a County Library Director, City Library Director, and a Director of a municipal library that was run by a 501 (c)3 non-profit corporation, and has worked in New Jersey, North Carolina, Virginia, and Florida.
Before embarking on a career in the library world, Alan, a southern New Jersey native, was a casino dealer in Atlantic City.
---

Christine Peterson, Engagement And Emerging Technologies Coordinator
As the Engagement & Emerging Technologies Coordinator, Christine works with members to identify their needs and create services to assist them. She also follows technology trends to discover how Amigos can promote and support these project, possibly bringing them to our members as Amigos services. Currently, she guides the implementation of the SimplyE service, an open source app that brings multiple ebook feeds into a single, easy-to-use interface for patrons.
She is also known for her technology training throughout the Southwest, making complicated topics easy for librarians to understand. Prior to joining Amigos, she was the Manager for Continuing Education & Consulting at the Texas State Library & Archives Commission, guiding and supporting libraries statewide. She also worked for both San Antonio College and the Florida Institute of Technology as their systems librarian, converting their library catalogs to automated systems.
---