Staff Bios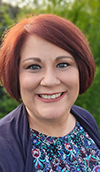 Jodie Borgerding, Continuing Education Services Manager
As the Continuing Education Services Manager, Jodie Borgerding oversees the development of training opportunities for Amigos members and is the coordinator for the Missouri Libraries 2 Go (MOLIB2GO) consortium. Jodie has experience in academic libraries, reference, information and media literacy, and library marketing and communications.
Prior to joining Amigos, Jodie served as the Instruction Librarian for Webster University in St. Louis, MO. She is a past-president of the Missouri Library Association, and serves as an active member of the American Library Association and the Association of College and Research Libraries. Jodie holds a Bachelor of Arts degree in English from Missouri State University and a Master of Library Science degree from University of Missouri-Columbia.
"I had worked with Tracy and Amigos for years and I always appreciated the dedication of the staff. So when the opportunity to become the Continuing Education Services Manger was presented to me, I jumped at the chance to join the member-focused team I had come to admire."
---

Grace Boykin, Marketing and Outreach Coordinator
As Marketing and Outreach Coordinator at Amigos, Grace handles many facets of the organization's external and internal communication efforts. From the annual report to frequent newsletters, she prepares and shares valuable information with current and potential members, participants, vendors, and supporters via booth exhibits, brochures, direct emails, social media and the web.
Throughout her career, she has worked in communications, marketing, sales, theatre, and tutoring. New to the professional library world, Grace is a longtime public library patron and advocate. She is passionate about non-profit work and the importance of libraries to community and society.
While reading and indoor gardening top her favorite hobbies list, she also loves to hike, cycle, visit museums, go to the ballet, and try out new local restaurants. Grace earned her Bachelor's in Textile & Apparel Management from the University of Missouri-Columbia, and a Master's in Marketing from Webster University in St. Louis.
---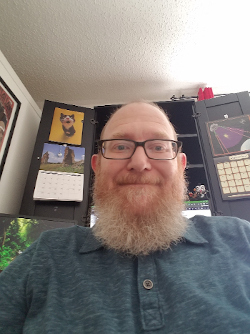 Chris Brown, Engagement and Emerging Technologies Analyst
Chris has worked for Amigos Library Services for over 22 years and has performed many roles at Amigos. He is currently the Engagement and Emerging Technologies Analyst and supports the SimplyE program by providing onboarding and customer/technical support. He is also Amigos' customer relationship management system (CRM) administrator, supports internal IT services, and assists the Amigos Membership Team. Focusing on customer support throughout his career, Chris enjoys providing solutions to libraries and staff to empower them to achieve their goals.
In previous positions, Chris has worked in the Member Discount department helping members with discounts on library products and services, and in the Continuing Education Services department coordinating workshop schedules and administration of the department's event registration system.
Chris earned his Bachelor of Arts degree in Public Relations from Texas Tech University and his Master of Science degree in Information Science with an emphasis in information system administration from the University of North Texas.
---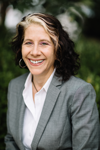 Tracy Byerly, Chief Programs Officer
Tracy Rochow Byerly has worked for Amigos Library Services since July 2012, when the Missouri Library Network Corporation (MLNC), merged into Amigos. Serving as the Executive Director of MLNC since December 2003, Tracy played a key role in uniting the two organizations.
In her current position as Chief Programs Officer, Tracy provides leadership and support for the organization's key programs – Member Discount, Courier, Continuing Education, SimplyE and Association Management Services. She oversees and coordinates the annual Amigos Member Conference, including theme selection Tracy also guides the organization's communications and marketing efforts, through Amigos' online channels. A key player on the Amigos senior management team, Tracy is well regarded by her colleagues for her enthusiasm and positive outlook.
As MLNC's Executive Director, Tracy directed the organization's activities, worked to expand its excellent programs and services, and maintained positive relationships between MLNC and other organizations. She worked closely with the MLNC Board of Directors in responding to changes in the operating environment and choosing the organization's strategic direction. Prior to assuming her role as Executive Director, Tracy served as MLNC's User Services Manager. Before her positions with MLNC, Tracy worked in Technical Services for St. Louis County Library.
Tracy has a Bachelor of Science in Foods and Nutrition from Fontbonne University and a Master of Arts in Library and Information Science from the University of Missouri – Columbia.
---

Nicole CeBallos, Member Discount Services Subscription Specialist
Nicole earned her master's degree in library science from Texas Woman's University. She lives in Sanger with her two beloved pets: a chihuahua and a maine coon. In her spare time, Nicole likes to read, watch movies, go to museums, and travel.
"I'm so excited to join AMIGOS. I've been impressed with the resources and services that the organization offers to libraries. I can't wait to serve libraries in this new and fun way."
---

Kristin Evans, Association Management Services Supervisor
Kristin Evans is a St. Louis, Missouri native who currently resides in Clarksville TN with her husband, dog, cat, and pet snake. She earned her MLIS from the University of Missouri Columbia. Kristin has previously worked as a public library branch manager and director. When not working for Amigos, Kristin enjoys reading, working out, hiking, rock climbing, and rooting for the St. Louis Cardinals. Kristin has worked for Amigos as the Association Management Services Supervisor since fall of 2019.
---

Miguel Figueroa, President and Chief Executive Officer
Prior to joining Amigos Library Services in 2020, Miguel served as director of the American Library Association's Center for the Future of Libraries; director of member programs at the American Theological Library Association; and director of the American Library Association's Office for Diversity & Spectrum Scholarship Program and Office for Literacy and Outreach Services. He has held positions with New York University Medical Center's Ehrman Medical Library and Neal-Schuman Publishers. Miguel is a graduate of the University of Arizona's Knowledge River Program, an initiative that examines library issues from Hispanic and Native American perspectives.
---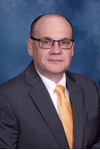 Keith Gaertner, Chief Financial Officer
Currently serving as Chief Financial Officer for Amigos Library Services, Keith Gaertner has over 35 years of experience working with Library consortiums. He oversees both the Finance and IT departments, helps the personnel department and assists with many projects in the Association Management Services department.
Keith earned his Master of Arts degree in Information Technology Management from Webster University in St. Louis, a Bachelor of Science degree in Business Administration and two Chancellor's certificates in data processing from the University of Missouri – St. Louis.
---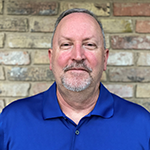 Tony Gay, Webmaster
As Webmaster, Tony works with staff to keep the Amigos.org and related web sites accurate, up-to-date, and complete. His position has continuously evolved with the needs of Amigos since being hired in 2002. Today, Tony also develops and edits marketing-related videos for the Member Spotlight campaign and supports the Continuing Education department with online course registration and technical support.
Tony earned his Computer Science degree from the University of North Texas in Denton, TX.
---

Erin Gray, Library Services and Technology Trainer
After earning her master's degree in library science from the University of Missouri-Columbia, Erin went on to work in Branch Management, Collection Development and Youth Services for over a decade with Springfield-Greene County Library. She is an advocate for all libraries and recently served as President of the Missouri Library Association. Erin resides in Springfield, MO with her husband and daughter.
"I've appreciated the Association Management Services support of Amigos for MLA for a long time. I'm delighted to join this dynamic team with so many services for libraries."
---

Laurence Zuercher, Member Discount Services and Trans-Amigos Express Supervisor
Laurence currently lives in Arlington, Texas, with his wife and 8-month-old daughter. Over the years, he has worked in several different positions at the Arlington Public Library, centered around the multi-service circulation desk. With an emphasis in Psychology, Laurence earned his Bachelor of Science from The University of Texas at Arlington.
"I'm looking forward to using my customer service experience and the drive I have for library services to Amigos. And I'm excited to start working with the team!"
---