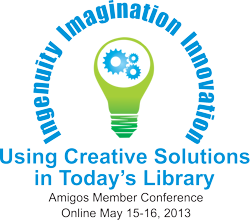 Ingenuity, Imagination, and Innovation – Using Creative Solutions in Today's Library is the theme for this year's Amigos Member Conference, May 15-16. Join us for an exciting array of sessions focused on finding creative solutions.
Creativity is defined as the ability to produce something new through imaginative skill. Whether it's a new solution to a problem, a new method or device, or a new artistic object or form, creativity generally refers to a richness of ideas and originality of thinking. Ingenuity, imagination, and innovation are all parts of creativity and the creative process.
Andrew Sanderbeck will kick off the conference with "Bringing Creative Thought to Work." His engaging presentation will offer a range of ideas you'll be able to use immediately to engage the right (creative) side of your brain and improve your connectivity with the left (logical) side.



Tweet using the following hashtag about this year's member conference: #amigoscreative