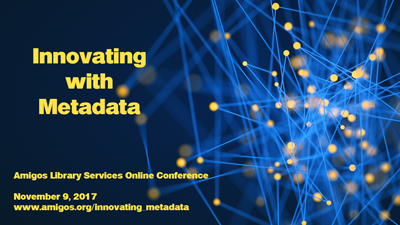 Today's metadata is not yesterday's cataloging. Libraries all over the world are doing amazing things with all kinds of metadata from many sources.
Join us on November 9, for an Amigos Library Services online conference, Innovating with Metadata, where we will explore how libraries of all types are working with and innovating metadata. Over the course of this one-day online event, we will hear from a variety of perspectives, experiences, and lessons learned from academic libraries, special libraries, and more. Each session will run 45 minutes.
For more information about this conference, contact Bill Walker, walker@amigos.org or 800-843-8482 ext. 2853.