September 7, 2012 (Online)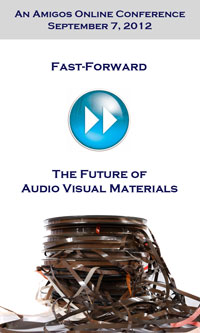 Do you have film? Video tapes? Cassettes? Records? Reel to Reel Tape? 8-Tracks? How is your institution working with these collections?
America is at risk for losing our recorded audio and visual heritage. As these media age, not only is there deterioration to the materials themselves but the machines that are used to play this media are rapidly becoming obsolete. Even born digital collections are facing issues dealing with the migration from original to new format.
Keynote Speaker: George Blood - A popular speaker at many conferences, George oversees George Blood Video, responsible for the digitization of historic analog and born-digital video collections, and George Blood Audio, providing recording services for classical musicians and ensembles that digitizes approximately 1,000 hours of audio collections from around the country each month. He and his staff are also active in research into workflow, best practices, metadata, authentication, and interchangeability of digital information. He has recorded or produced over 100 CDs, three of which were nominated for Grammy Awards.
The Fast Forward conference aims to bring together a group of speakers who have practical experience working with these types of collections to provide a wide view of the issues surrounding audio and visual collections. For these collections, preservation and access is an immediate concern and it is important for institutions to develop a strategy of how to deal with these collections as technology moves forward – fast!