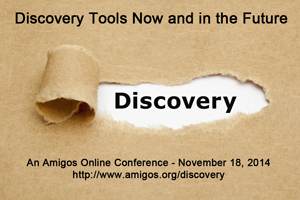 When: Tuesday, November 18, 2014
Where: Online
Amigos Members: Admission is free for Amigos members, but all are welcome!
Libraries have long been a bridge connecting their communities to information resources. Discovery tools promise heightened visibility of library resources and ease of use on the part of the user.
Public and academic libraries continue to maintain diverse and specialized collections to meet their users' demands. This conference will take a look at how the experience of adopting a discovery tool has affected specific libraries, show the lessons learned, and provide some insight into where discovery service is headed.
Online events eliminate your travel time by allowing you to present from the comfort of your office. Don't worry if you've never presented online; it's easy and we are happy to help you.
If you have questions about the conference topic or presenting at an online conference, contact Arta Kabashi, kabashi@amigos.org or 800-843-8482, ext. 2857.