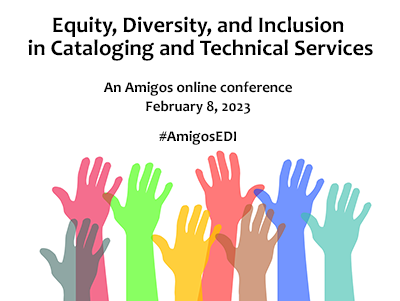 Libraries across the nation created and launched many Equity, Diversity, and Inclusion (EDI) initiatives in recent years. These initiatives have been applied in all areas of the library, including cataloging and technical services. Attend this conference to see these efforts moving from proposal to practice. This Amigos Library Services online conference will examine EDI in action today in cataloging and technical services.
Amigos is now accepting presentation proposals for the February 8, 2023, online conference, "Equity, Diversity, and Inclusion in Cataloging and Technical Services."
Potential presentation topics can include, but are not limited to:
EDI (Equity, Diversity, and Inclusion) in...
Inclusive cataloging practices
Subject headings, classification, metadata, and taxonomies
Resource management
Technical services workflows, projects, and policies
Collection development and acquisition approaches
Evaluation and assessment
Accessibility within electronic and digital collections
Staff training for EDI applications in technical services
If you are interested in sharing your knowledge and experiences, please submit your proposal by December 9th, 2022: https://forms.office.com/r/6gX4y7cfHi .
Tell us your story and share what attendees can expect to learn from your presentation. Amigos staff will provide all the training for our platform and full technical support during your presentation. All sessions are 45 minutes with time for questions and answers.
For more information about this conference, contact Jodie Borgerding, borgerding@amigos.org or (972)340-2897.