Geological Society of London Announce new Incentive!
Submitted by

Amigos

on Wed, 2019-10-09 16:27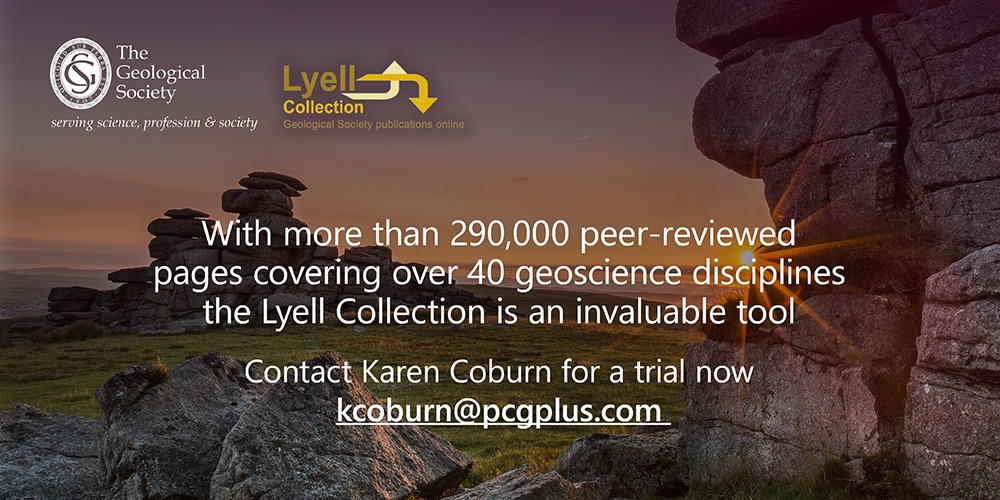 NEW Customer Geological Society for the Lyell Collection:
18 Month Subscription through December.
The Lyell Collection is one of the largest integrated collections of Earth science literature in the world comprising 260,000 pages, 26,000 articles and 1,000 volumes, subscription based.
View the most read articles for August from the Lyell Collection.
Journal of the Geological Society
Rank
Downloads
Paper
Author
1
730
The Mesoproterozoic Stac Fada proximal ejecta blanket, NW Scotland: constraints on crater location from field observations, anisotropy of magnetic susceptibility, petrography and geochemistry
(https://doi.org/10.1144/jgs2018-093)
Kenneth Amor, Stephen P. Hesselbo, Don Porcelli, Adam Price, Naomi Saunders
Quarterly Journal of Engineering and Hydrogeology
Rank
Downloads
Paper
Author
1
860
Atmosphere–vegetation–soil interactions in a climate change context; impact of changing conditions on engineered transport infrastructure slopes in Europe
(https://doi.org/10.1144/qjegh2017-103)
A. M. Tang, P. N. Hughes, T. A. Dijkstra, A. Askarinejad, M. Brenčič, Y. J. Cui, J. J. Diez, T. Firgi, B. Gajewska, View ORCID ProfileF. Gentile, G. Grossi, C. Jommi, F. Kehagia, E. Koda, eH. W. ter Maat, S. Lenart, S. Lourenco, M. Oliveira, P. Osinski, S. M. Springman, R. Stirling, D. G. Toll and V. Van Beek
Geochemistry: Exploration, Environment, Analysis
Rank
Downloads
Paper
Author
1
644
Identification of the expression of earthquake-induced surface flooding by groundwater using detailed regolith mapping at the buried Atlántida Deposit, northern Chile
(https://doi.org/10.1144/geochem2018-064)
A. E. Brown, P. A. Winterburn and T. Bissig
Petroleum Geoscience
Rank
Downloads
Paper
Author
1
1010
Geoscience and decarbonization: current status and future directions
(https://doi.org/10.1144/petgeo2019-084)
Michael H. Stephenson, Philip Ringrose, Sebastian Geiger, Michael Bridden and David Schofield
Scottish Journal of Geology
Rank
Downloads
Paper
Author
1
154
New theropod dinosaur teeth from the Middle Jurassic of the Isle of Skye, Scotland
(https://doi.org/10.1144/sjg2018-020)
Chloe M. E. Young, Christophe Hendrickx, Thomas J. Challands, Davide Foffa, Dugald A. Ross, Ian B. Butler and Stephen L. Brusatte
Proceedings of the Yorkshire Geological Society
Rank
Downloads
Paper
Author
1
113
The Chalk of the Northern Province: a synopsis
(https://doi.org/10.1144/pygs2018-012)
S. K. Donovan and S. G. Molyneux
Special Publications
Rank
Downloads
Paper
Author
1
953
Why is Africa Rifting?
(https://doi.org/10.1144/SP420.17)
J.-Michael Kendall and Carolina Lithgow-Bertelloni
Memoirs
Rank
Downloads
Paper
Author
1
495
Chapter 2 Active tectonics of Myanmar and the Andaman Sea
(https://doi.org/10.1144/M48.2)
R. A. Sloan, J. R. Elliott, M. P. Searle and C. K. Morley