New Infobase Admin Portal Coming in 2019
Submitted by

Amigos

on Tue, 2018-12-18 12:27

Infobase has announced that a brand-new admin portal will be released in 2019. Coming soon, the admin portals for all of your Infobase resources—databases, streaming video, and eBooks alike—will be merged into one, comprehensive admin portal. The beta preview will be available next month. Look forward to greater convenience, powerful new features, and a smoother and more efficient experience managing all of your admin needs!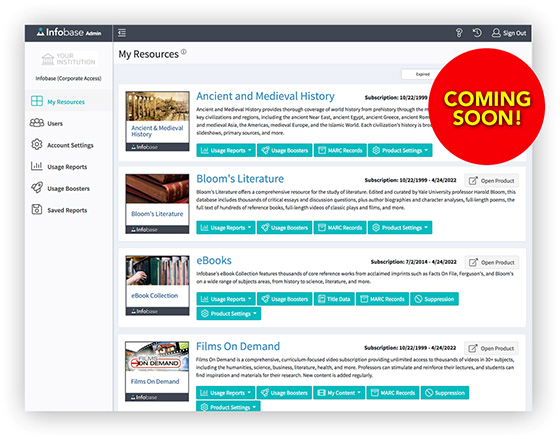 Here's a brief overview of the key enhancements:
One convenient, centralized location for all of your admin needs across all of your Infobase subscriptions—databases, eBooks, streaming video, eLearning Modules, and teacher resources
One login saves time—no more need to log in separately for each product
More appealing, user-friendly design
Now uses HTTPS to help protect the security and privacy of our users
Improved MARC records: a wealth of new MARC records for each database and a new interface for eBook and video MARC records
New features, including an at-a-glance look at recently expired subscriptions and new trials
Brand-new resizable usage boosters
Home page slider customizations for Films On Demand, Access Video On Demand, Just for Kids, and the Infobase eBooks platform
New Product Summary page
New COUNTER 4.0 and 5.0 reporting with SUSHI exporting for all Infobase resources, plus choice of reports
Access to all available integrations and partner applications that are currently configured for your account
And more!
Not an Infobase subscriber yet? Are you interested in additional Infobase subscriptions? Contact us at MDS@amigos.org today for trial and discount pricing information.