Library Director -- Texas County Library -- Houston, MO
Submitted by

Amigos

on Tue, 2018-09-11 15:34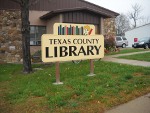 The Texas County Library is currently accepting applications for the position of Texas County Library Director. This is an administrative and supervisory position serving locations in Cabool, Summersville, Licking and Houston, Missouri. Applicants must have a degree in Library Science or a related curriculum.
Resumes should be submitted by October 1, 2018 to Texas County Library Board, 117 W. Walnut Street, Houston, Missouri 65483.
The Library is an equal opportunity employer.