Deadline to Submit Proposals Extended – Innovating with Metadata Online Conference
Submitted by

Amigos

on Thu, 2017-08-17 13:38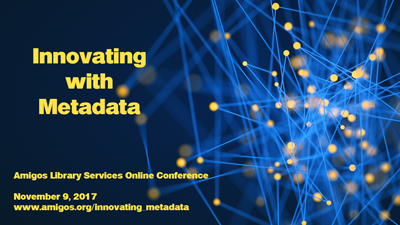 Join us on November 9, for an Amigos Library Services online conference, Innovating with Metadata, where we will explore all the amazing things libraries are doing with metadata from many sources.
Is your library innovating with metadata? If so, we would love you to share your story in a 45-minute session. We need presenters from public, academic, and special libraries.
Possible topics include:
New metadata standards and application profiles
Transforming and exchanging metadata within and between organizations
Automated ways of generating discovery, preservation and technical metadata
New systems; innovative uses of institutional repositories, image management systems, discovery layers
Creative uses of linked data and RDF
Transitioning from MARC to BIBFRAME
Innovating with metadata on a shoe-string budget
Submit your conference proposal here by Friday, September 22.
Don't worry if you've never presented online; it's easy, and we are happy to train you and provide technical support during your presentation. Submit your ideas now, we want to hear from you!