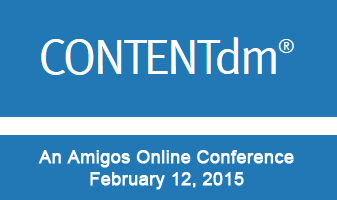 When: Thursday, February 12, 2015
Where: Online
Amigos Members: Admission is free for Amigos members, but all are welcome!
We are delighted to announce that registration is now open for our next online conference: "Using CONTENTdm: an Amigos Online Conference." Shane Huddleston, CONTENTdm Product Manager, will be our keynote speaker and promises us an update on the software, details on the upcoming release, and a review of the roadmap.
The sessions cover a variety of topics, including working with legacy metadata, using photographic cataloging tools to become more efficient, lessons learned when creating an historical map collection, enhancing collections with functionality from Popcorn.js, accurately representing collections of postcards and glass plate negatives, moving from local CONTENTdm installation to OCLC-hosted, understanding linked data, using MS Access for batch uploading, and how to use tab-delimited spreadsheets.
Don't forget our Lightning Round, which will include at least 4 10-minute sessions. Be sure to bring lunch with you so you can take advantage of these quick, but valuable, tidbits.
Attend live so you can be a part of the discussions, but do not worry if you cannot make it to all of the sessions. They will be recorded and available to you by the end of the conference day.
If you have any questions about the conference, please contact Christine Peterson at peterson@amigos.org or 800-843-8482, ext. 2891.