Register for the November Online Conference "MOOCs and Mobile Technologies – Their Impact on Reference Service"
Submitted by

Amigos

on Thu, 2013-10-03 09:40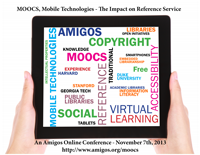 Implementing mobile technologies within libraries, whether it is moving to the cloud, circulating e-readers, or building mobile websites, seems pretty straightforward until you make the decision to embark on this path. Delivering services to an open classroom is exciting. What can you do to move from idea to service delivery?
Come explore the role of librarians in MOOCs: massive online open courses and their use of mobile technologies in the library to reach out to patrons, at our online conference Thursday, November 7.
Conference sessions include:
Connecting Users with Resources: Facilitating Easy Access
A Librarian Takes A MOOC
That All May Read in a Digital World
Social Influence: Using Mobile Technologies to Connect and Engage Patrons
Massively Social & Openly Mobile Reference: Current & Future Tech
For more information and registration information, visit the conference web pages.