Ask Amigos - The Librarian's Reference Desk

Supporting the Public Libraries of Texas
In partnership with the Texas State Library and Archives Commission, Amigos Library Services provides a comprehensive program of support and assistance to the public libraries of Texas.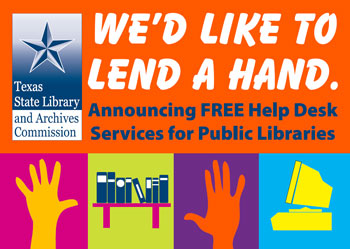 Through this partnership, Texas librarians, trustees, and other interested persons obtain advice and brief consultations on all aspects of public library management, operations, buildings, services, outreach, technology planning, e-books, library standards, new trends, and more at no charge from Amigos' team of experts.
The service is available by phone or e-mail from 8:00 a.m. to 5:00 p.m. Central Time, Monday through Friday. Contact our public library specialists for assistance.
The service provided at no charge to Texas public libraries includes advice, referral, and resources that can be routinely provided by phone and e-mail. When more extensive, personalized, or on-site needs require referral to fee-based consulting services, Amigos will provide a complete list of options from a variety of resources. One such resource is Amigos' consulting services.